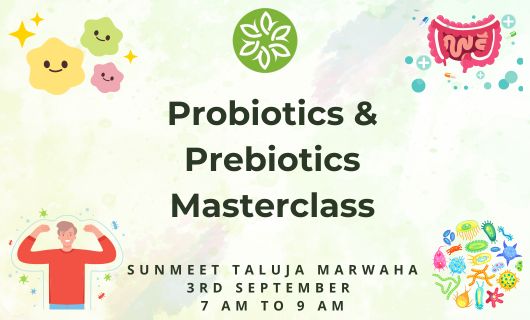 Probiotics & Prebiotics Masterclass
Topics we will discuss:
What are probiotics
Some Statistics
How and where these began
History of fermentation
Types of probiotics
Probiotics in India
Probiotics around the world
What is fermentation
Fermentation Vs Pickling
Bacteria - good or bad?
Gut bacteria - Facts and figures
The gut brain connection
What is the Gut Feeling?
Nutritional facts of probiotics
Curd Vs Kefir
Kefir Vs Kombucha
Sauerkraut and pickled veggies
Prebiotics
What about probiotic pills?
Live Demo
Live Demo Recipes for 3rd September

Classic Kombucha
Fresh Fruit Kombucha
Milk Kefir
Water kefir

Fermented rice
Other 15 recipes ( will be given in a pdf post the session)

Apple Cider Vinegar
Fermented Tomato Ketchup
Fresh Fruit Kombucha
Coconut water Kefir
Coconut Milk Kefir
Sauerkraut
Pickled Vegetables (oil free)
Avocado Salad dressing
Lemon Poppy seeds dressing
Carrot ginger dressing
Beetroot Kanji
Carrot Kanji
Probiotic Lemonade
Rice Kanji
Kimchi